With more than 11 albums behind him already, 
Martin Nathan 
ventures since 15 years into many artistic and stylistic experiments, under the name of 
Brain Damage
. Alternately dark, atmospheric, aggressive or poetic, his universe seems to be constantly evolving, what may be the key to his project longevity.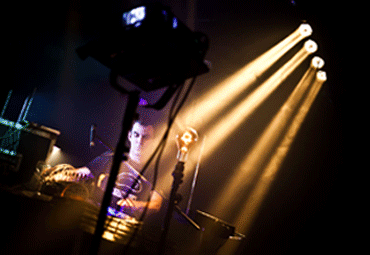 Acclaimed as one of the founders of the French dub scene, he presents, early in 1999, the first dub live-act of its kind in France. After producing the famous « Brain Booster » track, embryo of the French dub-steppa, he forges connections with some masters of the style in the UK (Zion Train, Alpha & Omega, The Disciples). 2002, in London, alongside the singer Tena Stelin, he composes the standard « Genetic Weapon », — still recently taken over by OBF Sound System —, and produces afterwards his two first albums on the Parisian label Hammerbass. 2006, always accompanied by the bassist Raphaël Talis, he joins the label Jarring Effects. A trilogy of three experimental and conceptual opuses follows, developed in collaboration with a host of international artists (Black Sifichi, Mark Stewart, Hakim Bey), openly breaking the codes and blowing up the very boundaries of the style, where he was a bit hastily catalogued.
After his sidekick left, 2011 marks the beginning of a new chapter, prompting into new directions the project that becomes more polymorphous than ever. Martin Nathan balances then collaborations (High Tone, Vibronics, Sir Jean) and his solo works, getting always closer to the roots of his favorite style. 2015 the realization in Jamaica, at the mythical Harry J studio, of a part of his upcoming album, featuring legends like Horace Andy, Willi Williams, Winston Mc Anuff, Kiddus I and Ras Michael seem to confirm it.
Over the years, he has grown a solid reputation throughout the international scene, brilliantly cultivating a certain dichotomy between cerebral studio sessions and hundreds of live performances, always explosive. In France, in the light of his experience and ability to continually renew his art, Brain Damage appears now as the link between the scene he contributed to establishing more than 15 years ago, and the new activists of a more synthetic & frontal dub.